In alignment with global trends, Vietnam's government, particularly the Ministry of Education, has recognized the vital role of integrating information technology in education. They have taken concrete steps to support and promote the application of technology in the educational sector. In this article, Edtech Agency invites you to explore the directives and policies at different levels to foster the growth of Edtech in Vietnam.
 As per a report from the Ministry of Education and Training, the prevalence of online learning among Vietnamese students has witnessed remarkable growth over the years. In 2015, only 16% of students opted for online learning. However, with the proliferation of online learning platforms, this percentage surged to 22% in 2016, 28% in 2017, and 35% in 2018. In 2019, this number continued to climb to 42%. 2020, a significant milestone was reached, with online learning reaching 61%. In 2021, influenced by the Covid-19 pandemic, the rate of online education among Vietnamese students crossed the 75% mark. The integration of information technology into educational practices in Vietnam is now recognized as an essential and effective method to enhance educators' and learners' cognitive abilities, creativity, and proactiveness.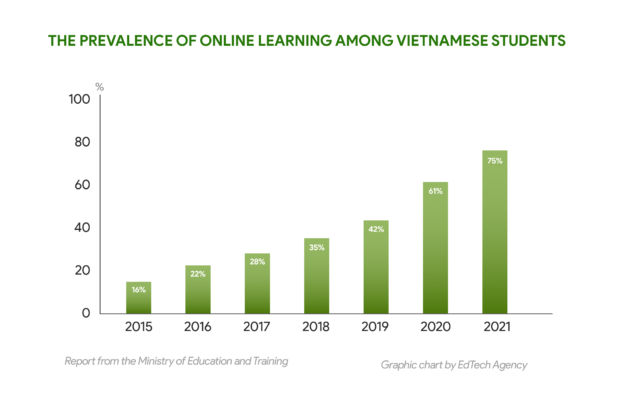 Post the COVID-19 pandemic, the government of Vietnam and the Ministry of Education and Training have emphasised the importance of digital transformation in education. Consequently, resolutions and circulars have been issued to guide educational institutions in adopting and developing information technology applications. Some recent pivotal decisions include:
 – Decision No. 131/QD-TTg, dated January 25, 2022: Approval of the "Enhancing the Application of Information Technology and Digital Transformation in Education and Training for the 2022 – 2025 period, with a vision to 2030." This decision underscores the significance of having over 50% of higher education institutions providing remote and online training programs (degree level). Additionally, it mandates that 100% of educational institutions implement data-driven school management systems.
 Official Dispatch 4771/BGDĐT-CNTT, issued on August 31, 2023, by the Ministry of Education and Training, provides guidance for applying ICT, digital transformation, and educational statistics for the academic year 2023 – 2024. Critical tasks include: a) Maintaining and maximizing the use of learning management software (LMS); integrating, connecting, and exchanging data between online learning software and educational institution management software. b) Strengthening the creation of digital teaching materials; c) Promoting regular online assessment; d) Providing digital skills training for the teaching staff, including using educational software, creating digital teaching materials, and organizing online teaching.
Decision No. 4725/QD-BGDĐT on December 30, 2022, by the Ministry of Education and Training, regarding the "Educational Digital Transformation Level Assessment Index for General and Continuing Education Institutions." The index structure includes "Digital Transformation in Teaching and Learning" and "Digital Transformation in Educational Institution Management." The results are categorized into three levels. Level 1: Not meeting the requirements for teaching computer science. Level 2: Meeting the basic requirements for teaching computer science. Level 3: Excellently meeting the requirements for teaching computer science.
Based on Decision No. 4725/QD-BGDĐT dated December 30, 2022, 2023 marks the first year when General education institutions implement the measurement of the digital transformation level and report to the education department. All institutions in Hanoi have reported reaching Level 2 and Level 3. For higher education, the Ministry of Education and Training also issued Decision No. 4740/QD-BGDĐT, dated December 30, 2022, regarding the "Educational Digital Transformation Level Assessment Index for Higher Education Institutions." These serve as the foundation for universities to measure and evaluate the level of digital transformation and develop technology applications in teaching and learning, aligning with modern education.
Currently, the Ministry of Education and Training has collected information from 100% of preschool and General education institutions, including 1.6 million teacher and education management personnel records and 2.4 million student records and learning outcomes. They have connected with more than 17,083 schools. Notably, the Ministry of Education and Training has implemented the Higher Education Management Information System (HEMIS), gathering and digitizing data from 442 training institutions, 152,470 lecturers, and 2,102,165 learners. Simultaneously, they have collected scientific research, infrastructure, finance, business partnerships, and international collaboration data.
With a plethora of strategies, policies, and specific guidelines designed to establish a legal framework for integrating information technology into education, it's evident that the government of Vietnam and the Ministry of Education & Training are highly committed to the goal of digital education transformation to adapt swiftly and enhance the capacity of human resources in the digital era.
This environment provides a favourable setting for Edtech entities to operate in a market supported by policies and directives at various levels of relevant authorities. Schools, training institutions, teachers, and students will increasingly embrace technology products in education.
 ———————————————–
Edtech Agency, with a team of top experts and a vast network across Vietnam, the region, and the world, has emerged as the critical facilitator connecting international Edtech entities aiming to explore, experiment, and enter the Vietnamese market.
 Contact us to discover services tailored to your needs.
Follow us for more information about the Vietnamese market.