At Techfest 2021, for the first time, Education Technology Village launched Ranking activities for Edtech Vietnam products with the desire to update the panorama of Edtech Vietnam and thereby show the opportunities, challenges, and directions for Edtech startups, Edtech startups support team, investors from Edtech, etc. The activity has received extensive attention not only from domestic enterprises but also the attention of international entities and investment funds, etc.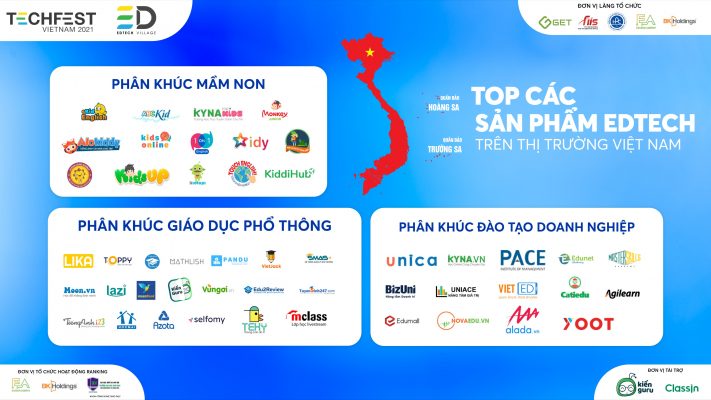 In 2022, with the context of the gradual reopening of the "new normal" life, will education technology thrive during the pandemic? "Regarding the investor perspective," said Wang, an expert from the Do Ventures Venture Capital Fund: Many educational problems still need to be solved by technology, such as student management, parent management, learning measurement, progress assessment, or designing a roadmap toward individualization. Therefore, Edtech solutions also need to reoptimize tools and features to accommodate the new training model." (according to dantri.vn)
2022 Education Technology Village, presided over by Edtech Agency, collaborated with the Faculty of Education Technology, University of Education, Hanoi National University, and the Education Technology Community to implement the Ranking of Edtech products (K12) 2022, the largest market segment in Vietnam with more than 17 million students.
The previous year, the Ranking list included 03 main categories: Preschool education, General education, and Enterprise training. This year, there will be 05 specific items in the K12 segment, including Building, developing, and sharing content; Foreign language training and dissemination; stem/STEAM education; Testing and evaluation; Platform solutions, and tools.
In anticipation of the event in July.
Time: 9: 30 – Thursday (July 28, 2022)
Form: Hybrid
Registration: https://forms.gle/G8U6KUsa55LxUwKu5